If you're thinking about booking a psychic reading but the thought of chatting with someone in real-time is putting you off, we've got some great news for you.
Psychic readings are available by email too.
That's right, introverts of the world rejoice! It's now possible to get psychic advice without actually talking to anyone.
So, how does it work?
Let's take a look:
What is a psychic email reading?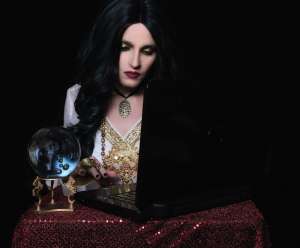 In today's world, almost everything is available online. And psychic readings are no exception.
With just the click of a button (and your credit card details), you can connect with a psychic advisor anywhere in the world.
Handy, right?
We certainly think so. But where do email readings come into this?
Well, email readings are a handy alternative to speaking to a psychic by phone, instant chat, texting a psychic, or video link. 
And just like live readings, they can be booked online using a credit card, debit card, or even PayPal.
So, what happens during an email reading?
During an email reading, you simply send your questions to your chosen advisor via email. Then, all that's left to do is wait in the comfort of your own home for a response to arrive in your inbox!
What could be easier than that? 
But not only is this process simple, but it's also super stress-free (even for the most introverted of users). You see, because an email reading doesn't require a too-and-forth conversation, many people find them less nerve-wracking than picking up the phone. 
Of course, that's not the only benefit. Email psychic readings also allow you to:
Take your time writing out your question(s)
During an email psychic reading, you have the opportunity to write and re-write your questions as many times as you like.
This means that email psychic readings are perfect for anyone who finds themselves getting tongue-tied regularly. 
Understand yourself better
As you edit your email, you may find that your motives become clearer. And that makes sense. After all, we often hide our true feelings, even from ourselves!
But by writing your questions out, you may find that you begin to understand what you want better. 
Revisit your reading whenever you want
Psychic readings can be emotionally taxing. This can make it tricky to take in information. With an email reading, you can re-read your psychic's words as many times as you want. And this can make it easier to discover whether their predictions come true. 
But are email readings as good as live readings? Let's take a look now:
Email Readings VS Live Readings: Which is Best?
When people first hear about email psychic readings, they often wonder whether they really work. Don't psychics need to speak to you in order to connect with your energy?
Well, not necessarily.
You see, many online psychics claim to be able to intuitively connect with their customers by simply focusing on them. And this is as true for email readings as it is for live sessions.
So which format is best?
Well, there are pros and cons to each method. But the best option for you depends on your likes and dislikes. Let's compare the two:
| | |
| --- | --- |
| Email Readings | Live Readings |
| You can write questions at your own pace | You can build rapport with your advisor |
| You're able to re-visit your reading whenever you want | You can ask your psychic follow-up questions easily |
| You can get a reading from the comfort of your own home | You can get a reading from the comfort of your own home |
In case you would like to explore other types of psychic readings, check out our review of best psychic readers online. 
OK, so there are clear benefits of email readings. But are they trustworthy? Let's take a look:
Are Email Readings Trustworthy?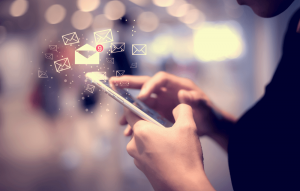 When you book a psychic reading, you want to know that the information you are given is correct. Unfortunately, there are fraudulent psychics operating online.
This means that, regardless of whether you choose an email or live reading, you need to exercise caution. So, how can you protect yourself?
The best way to avoid fraudulent psychics is to be prepared. You can do this by:
Using an established psychic service that vets their employees

And/OR

offers a satisfaction guarantee

And reading as many customer reviews as possible
OK, so you've decided to book an email reading? Great! But what kind of questions can you ask them? Let's take a look:
You can ask your email psychic all the same questions that you would ask a live psychic. So, whether you're interested in learning about your love life, career, or family, feel free to tailor your questions accordingly!
But with all psychic readings, there are some things to consider.
Firstly, it's a good idea to ask open-ended questions. This gives your psychic reader an opportunity to use their gifts to gain information relevant to your life.
Secondly, it's important to remember that a good psychic won't lie to you by telling you only what you want to hear. 
This means that it's essential that you only ask questions if you are ready to hear the answer… whatever that might be.
Not sure what to ask? No problem! Here are a couple of options to get you started:
Love Questions:
What are some things I should know about my current relationship?

What can I do to attract love into my life?

Is there anything I should know about my future relationships?
Family and Friends:
Is there anything you think I should know about my relationship with my mom/dad/friend?

What can I do to improve my relationship with my sister/brother/grandmother?

Is there anything I can do to attract more friendships into my life?
Career:
Is there anything I should know about my career?

What can I do to improve at work/get a promotion/to find my true passion?

How can I improve my relationship with my boss/co-workers?
How Often Should I Have an Email Reading?
Email readings can be used as a one-off way of gaining information. Or you can choose to build them into your regular routine, much like visits to the hair salon!
Our advice? Try booking one email reading to start with. Then, once you understand how beneficial they are to you, you can decide whether to make them a regular occurrence.
But before you book your first email reading, you'll need to know where to find accurate advisors. So, let's look at some of your options:
Where Can I Find An Email Reading Online?
Here are our top picks for sites that offer the best psychic email readings
Keen is a platform for independent psychics and is home to many talented readers. However, as a psychic community, their screening process is much less vigorous than other providers. 
Luckily, they offer a satisfaction guarantee to all of their customers.
This means that if you are unhappy with the service you receive, you can have a free email psychic reading next time!
Read more about Keen psychic readings.
Psychicoz has been around since 1989 and pride themselves on providing an accurate service free from scams and nonsense. And with so much experience, it seems like they really know what they are doing! 
But can you ask a psychic a free question via email? Hmm, it doesn't seem like it.
Psychic Contact offers customers a wide choice of accurate, compassionate, professional and ethical psychic readers, all for the same flat price. However, their pricing is relatively high compared to others on the market.
So, how much is a psychic reading by email? Well, at the minute, they charge:
1 Question – $29.95

2 Questions – $39.95

3 Questions – $49.95

5 Questions – $69.95
Unfortunately, it doesn't seem like you can get a free psychic reading by email using this service.
Psychic Light is a small but popular service offering psychic readings. Plus they offer a free daily horoscope via their website!
Just two of their advisors offer email readings, but don't worry, you'll still hear back within 72 hours. 
So, do they offer free accurate psychic readings by email? Unfortunately, it doesn't look like you can get a free personal psychic reading by email using this service.
OK, so we've looked at the benefits of email readings, and we've covered some of the services offering readings in this way.
Pro Tip: Don't forget, Kasamba allows you to ask a free psychic question through email!
Now all that's left to say is good luck…
Don't forget to let us know how accurate your reading is!