Choosing to have a clairvoyant reading can be a truly magical experience. But, before you book a reading, it pays to be prepared.
And that means understanding what you're looking for in a clairvoyant. As well as how their clairvoyance can help you.
So, let's start with the basics:
What Is a Clairvoyant Reading?
Also known as a 'psychic reading', a clairvoyant reading is an opportunity to understand yourself better.
By honing in on your specific energy, a good clairvoyant is able to answer questions on a range of different topics, past, present, and future.
What/Who Is a Clairvoyant?
A clairvoyant is a psychic who possesses the gift of 'clear vision'. This means that they are able to see visions of the past, present, and future.
Although some clairvoyant visions are involuntary, talented clairvoyants are able to use their gifts to give readings. They can do this by focusing their psychic abilities onto one person, in order to answer their questions.
And this is done through 'remote viewing'.
What is remote viewing?
Remote viewing is the ability to see people, places, or events that are out of your natural eye line.  This could be something in the next room, or on the other side of the world.
And for clairvoyants, this gift goes beyond seeing what is happening now. It extends to seeing events that happened in the past, and those that may happen in the future.
But, clairvoyance is not the only skill your clairvoyant reader might possess. In fact, the gift of 'clear vision' is only one part of a wider set of gifts, known as 'The Six Clairs':
What are 'the six clairs'?
Clairvoyance– 'clear vision'
Clairaudience– 'clear hearing'
Clairsentience– 'clear feeling'
Clairalience– 'clear smelling'
Clairgustance– 'clear tasting'
Claircognizance– 'clear knowing'
And clairvoyant psychics are often blessed with two or more of these gifts.
Now, you may be wondering:
Are clairvoyants real?
Well, here at CrystalGazer, we believe 100% that clairvoyants are real!
But, that doesn't mean that all people who claim to be clairvoyants are telling the truth.
So, before you go ahead and book a reading, we advise you to do your research. And that means reading as many reviews and testimonials as possible.
OK, so we've covered the basics of clairvoyant readings. Now let's delve a little deeper:
How Do Clairvoyants Work?
Clairvoyants have a natural psychic ability which allows them to see visions of the past, present, and future. And they give readings by focusing this psychic energy onto their clients.
During a reading, you can ask your clairvoyant questions about any aspect of your life. But the clearer you are on your motivations, the easier they will find it to focus their energy.
So, to get the best reading possible, consider planning some questions ahead of time. And remember, if you are especially interested in one topic, you can choose a psychic who specializes in this area.
Some of the most common areas in which clairvoyants specialize are:
Career advice
Friendships, relationships, and love
Self-discovery
​​​Related reading: Questions to ask a psychic
What Happens in a Clairvoyant Reading
All clairvoyants are different, they have their own personalities and ways of working. And this means that each reading will be different too.
But there are some similarities we often see between readings:
When it is time for your reading, your clairvoyant should make you feel comfortable. If you are visiting face-to-face, this might involve offering you a drink. Or if you are having an online or phone reading, this might involve a little small talk.
Once the clairvoyant senses that you're ready, your reading will begin
Aura Readings
Clairvoyants will often start their reading by looking at your aura. You see, not only does this unique energy field say a lot about you, but it helps the clairvoyant to focus their psychic ability.
Channeling
Then, many clairvoyants will begin channeling. This means that they will contact spirit guides who can help them throughout your reading.
If your psychic offers clairvoyant medium readings, they may also channel the spirits of your deceased loved ones at this point.
Asking for questions
If you did not tell the clairvoyant the reason for your visit, they may ask you if you have any questions during your reading.
Seeing images in their mind (and making sense of these images)
Next, the clairvoyant giving your reading may begin to see images in their mind. These images may be clear, or they might be difficult to interpret.
It is possible that they might ask you for help during this process.
For example, the clairvoyant might describe a building and ask if you recognize where it is. Or they may ask if a certain symbol holds particular meaning to you.
Remember, clairvoyants can see images relating to the past, present, or future. So be sure to think hard about what their visions show.
OK, so we've covered what happens in a typical clairvoyant reading. But what about crystal balls and tarot cards? Don't they feature somewhere?
Do Clairvoyants Use Tools During Their Readings?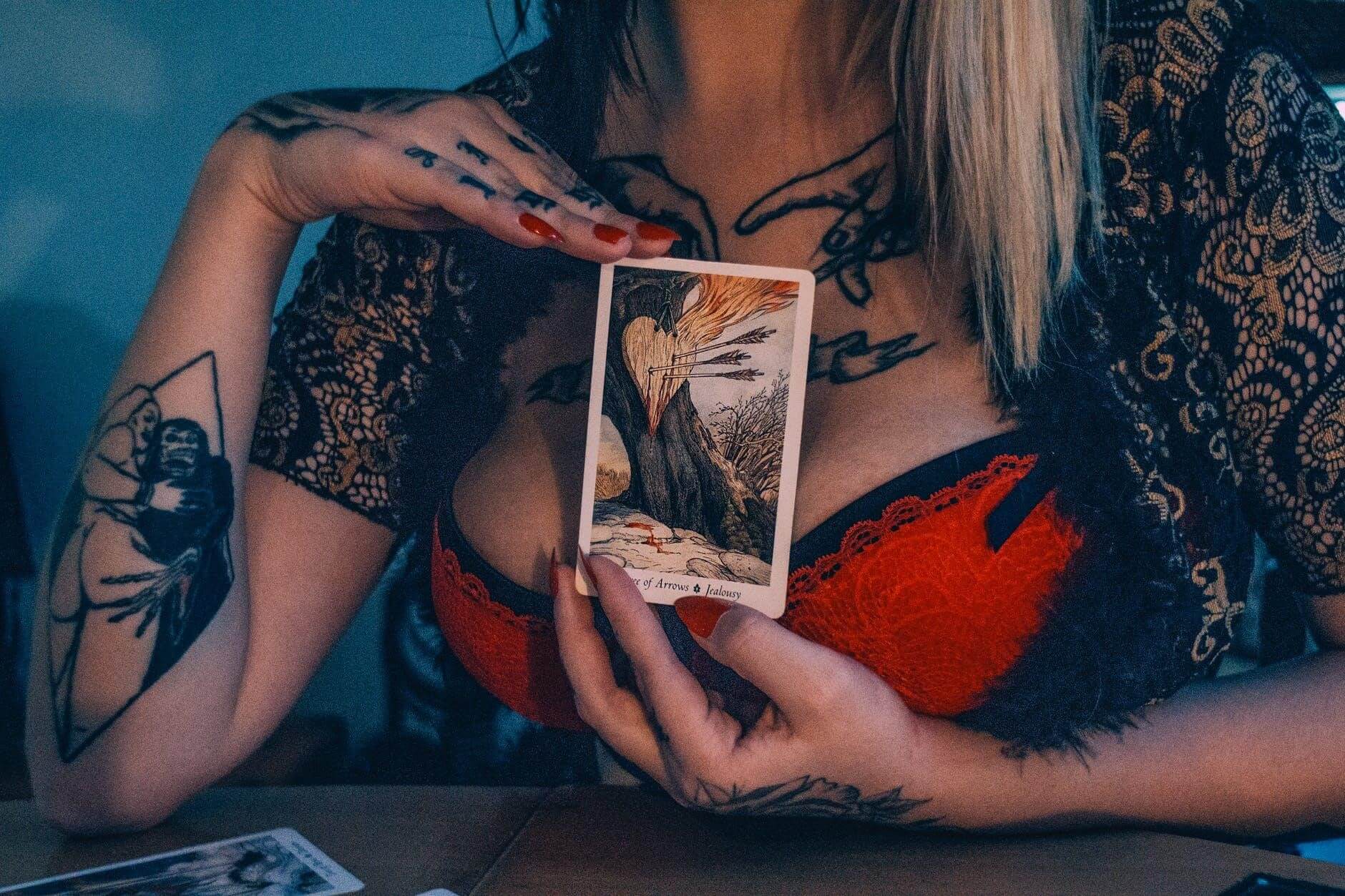 Now if Hollywood is to be believed, all psychics are a dab hand at tarot. And many use crystal balls, pendulums, and angel cards too.
It's part of the clairvoyant experience, right?
Well, strictly speaking, clairvoyants don't need any additional tools to give you a reading. Their natural clairvoyant abilities are enough.
However, that doesn't mean that clairvoyants never use divination tools. In fact, some believe that these tools make their abilities stronger.
So, before you schedule your reading, consider whether you would prefer a clairvoyant who uses tools, or not.
But there is more to consider when choosing your clairvoyant reader than whether they use tarot cards. Which brings us onto our next section:
How to Make the Most of Your Clairvoyant Reading
Having a reading done by a clairvoyant can be a great experience. But only if you choose the right psychic, prepare properly, and go into it with the right frame of mind.
So, before you spend good money on clairvoyant services:
Do your research
Choosing a legit clairvoyant is important. So, don't forget to read reviews and ask for testimonials!
Remember, whilst there are some great psychics out there, there are also some convincing fakers.
Like we mentioned earlier, the clearer your motivations are, the easier a clairvoyant will find it to 'tune in' to what interests you.
And by asking clear questions, you'll help to direct the clairvoyant's energy towards what really matters to you.
Be open-minded
If you go into your clairvoyant reading with an open mind, the psychic will find it much easier to focus on your energy.
Listen carefully
Sometimes, it can be hard to remember what a clairvoyant said after your reading. So, listen carefully and consider making notes!
What Is the Difference Between a Clairvoyant Reading and a Psychic Reading?
Clairvoyant readings are a type of psychic reading.
But many other kinds exist. Now, the reason there is a lot of confusion around this topic is simple really: It's because there is an overlap between psychic abilities.
For example, a clairvoyant may also be a medium. Or a medium might also have the gift of claircognizance.
This means that it is important to be clear on what kind of reading you want before you choose a psychic service.
Can I Become a Clairvoyant?
The gift of clairvoyance is innate. And this means that it is not possible to become clairvoyant.
However, many people have this gift without knowing it. And if they begin to practice clairvoyance, they might find that their gift grows.
Are Online/ Phone Readings as Effective as Visiting a Clairvoyant in Person?
Yes! Clairvoyants are able to use their gifts don't rely on physical space. This means that they can tune into your energy, wherever in the world you might be.
Oranum.com offers customers the opportunity to speak with psychics via webcam from $0.99 per minute (some advisors offer 1-3 minutes free).
You can choose from lots of different profiles, and many advisers bill themselves as having clairvoyant abilities.
Psychicsource.com is one of the longest-running psychic reading websites in the industry. It has a wide variety of psychics to choose from, including clairvoyants.
And you can speak to one of their heavily screened advisers by phone, chat, or video for $4.99 per minute.
Keen.com is a platform for independent psychics, including clairvoyants. And you can speak to an advisor there from $1.99 per minute through phone or chat (though some psychics may offer lower prices).
Kasamba.com is one of the most popular psychic sites on the market. It offers customers a huge range of psychics to choose from, including clairvoyants from $2.49 per minute (+3 free minutes with each new advisor!) via phone, chat, and email.
The circle has been around since 1997 and they claim that all of their clairvoyants are tested by a 'rigorous monitoring procedure'. You can speak to an advisor via text, phone, or chat from around $0.29 per minute.
Now, whichever service you choose, don't forget to check the reviews for each individual clairvoyant before you book.
And there we have it, CrysalGazer's guide to the wonderful world of clairvoyant readings.
Did we miss anything? Let us know in the comments!